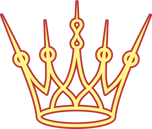 Yuk Yuk's Comedy Night in July
Yuk Yuk's finest comedians are coming to the Crown Harriston for an hilarious evening of live comedy on July 22nd from 8 pm till 10 pm!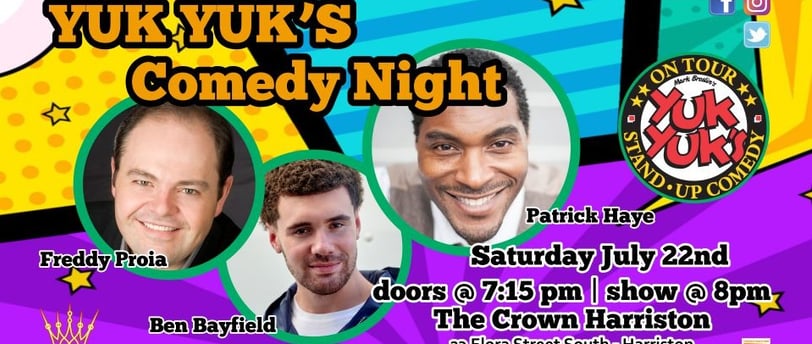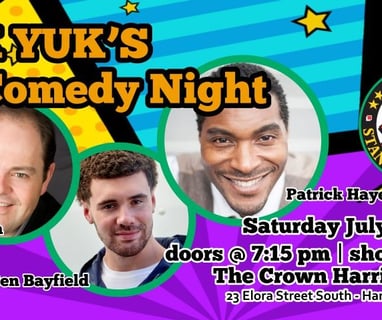 Yuk Yuk's finest comedians are coming to the Crown Harriston for an hilarious evening of live comedy on July 22nd from 8 pm till 10 pm!
Headliner Patrick Haye
Patrick Haye has grown to be a favourite wherever he plays. He has been featured on the Panel on CBC's, George Stroumboulopoulus Tonight and has opened for Gerry Dee (Mr. D), Brian Callen (Mad TV, The Hangover), Eddie Griffin (Undercover Brother), and Harland Williams (Dumb and Dumber, Half Baked). His hilarious observations, storytelling, and musical keyboard comedy pieces has Patrick busy performing at clubs, colleges, universities, and corporate events all over the country.
MC Freddy Proia
Freddy's honest love for performing is evident each time he steps on stage, whether it be for an audience at a local community fundraising event, or in a New York City Theatre. He is a seasoned professional and has performed to adoring audiences, in clubs and theatres, throughout North America. His high-energy performance, combined with an array of celebrity impressions, has made Freddy an audience favourite. He continues to delight fans by drawing his humour from life experiences and his Italian heritage.

Freddy has had the privilege of taking the stage at several prestigious theatres throughout North America including: The Markham Theatre, The Sony Centre, The Toronto Centre for the Performing Arts, New Jersey Centre for the Performing Arts, Boston's Emerson Majestic Theatre, Staten Island University Theatre, Hamilton Place, Kingswood Music Theatre at Wonderland, Brampton Rose Theatre, Mississauga Living Arts Centre, Queen's University Theatre (NYC), Long Island University Theatre and many more. He is a true entertainer who genuinely has fun on stage. His energy and love for performing is contagious, and will keep you buzzing long after the show is done.
Featuring Ben Bayfield
Ben graduated from the Humber College Comedy Program in 2022 and in the same year was the recipient of the Brian Linehan Comedy Writing and Performance Scholarship for Outstanding Artistic Promise. He is a regular at The Backroom Comedy Club and was selected to perform at Yuk Yuk's for "The Rising Stars of Comedy" show. He also performs at Comedy Bar, The Royal Comedy Theatre, Nothing Fancy and The Social Capital Theatre. He also has a background in sketch writing, and acting. He acted in a short film entitled "Sincerely, Yours" that won best indie short at the Venice Short Film Festival, set to release this fall.
Tickets presale $30 | doors: $35
https://yukyukscomedynight0722.eventbrite.ca
Saturday May July22nd - doors 7:15 pm | show 8 pm.