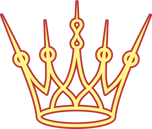 YUK YUK's Comedy Night
Yuk Yuk's finest comedians are coming to the Crown Harriston for an unforgettable evening of live comedy.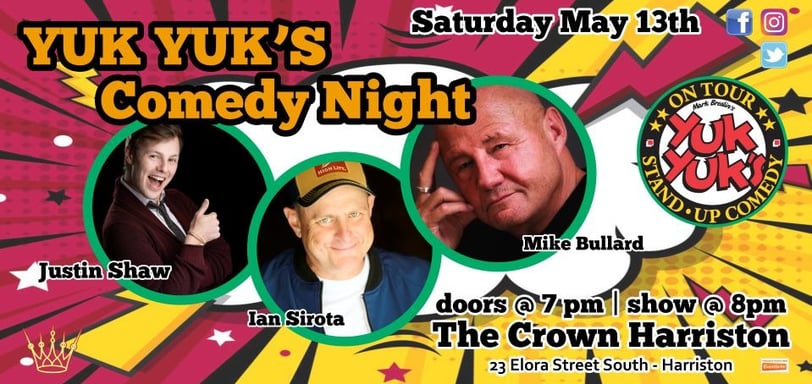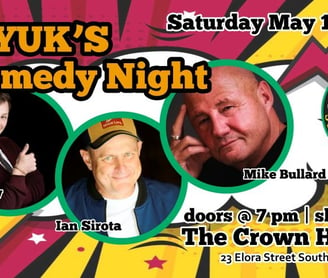 Yuk Yuk's finest comedians are coming to the Crown Harriston for an unforgettable evening of live comedy on May 13th at 8 pm!
IAN SIROTA, MC MIKE BULLARD and JUSTIN SHAW will keep you laughing with sharp wit and disarming humour.
IAN SIROTA has opened for: Jerry Seinfeld, Jim Gaffigan, Dennis Miller, Robin Williams, Dana Carvey and headlines comedy clubs across North America. Ian was a regular cast member and writer for Comedy Inc., Comedy Now, Gutterball Alley and many more! Ian has been nominated for not one but two Gemini Awards including "Best Comedy Performance" Ian's famous hoax on Jerry Springer was recently named 50th funniest moment in Canadian Comedy History by SiriusXM Radio. Number 50 out of the top 150 in history not too shabby.
This sharp tongued, comedian takes no prisoners and can also blend in observational humour with a family focus all the while mastering the audience with lightning crowd work. Ian has been a regular contributor to Dynamic Funds Humour Me Comedy Competition. The event turns Canada's biggest CEO's into stand-up comedians all to raise money for charity. To date the event has raised over 8 million and Ian's students include Mayor Jon Tory of Toronto who took home the trophy with Ian in 2017.
MC MIKE BULLARD is the former host of the late-night talk shows Open Mike with Mike Bullard on CTV and Beyond the Mic with Mike Bullard on CFRB. He currently hosts a podcast, You Too with Mike Bullard.
He is also the winner of 2 Gemini awards. Mike is won the gold medal for the Chicago Television Festival Late Night gold medal (beating Conan out), the Queens Jubilee Medal for thousands of hours of charity work and is the author of OPEN BOOK LITTLE THOUGHTS FROM A BIG HEAD. In April MIC DROP will be published. In November 2022, Mike went to Ukraine for a humanitarian mission where he raised money and awareness while delivering food, clothing, and medicine to thousands, often at the front lines. He arrived home in February 2023.
JUSTIN SHAW is a comedian and storyteller originally from Prince Edward Island (and if you're also from Prince Edward Island, his dad probably knows your dad.) His latest one person show The 70 Mile Yard Sale was listed as 'Critic's Choice" in the 2022 Hamilton Fringe Festival, and was the subject of Tales From Island Boy on Fibe TV1. He has appeared on Mike Birbiglia's Working It Out comedy show, and has recently opened for Fortune Feimster. His debut comedy album Human Money showcases his down-home yet outrageous sense of humour.
Tickets presale $25 + fees | doors: $30 + fees
Saturday May 13th - doors 7 pm | show 8 pm